Are you planning on joining one of our online events but have never used Zoom before? We've put together a handy guide on the Video Conferencing platform below. 
Getting started
All you need to take part in a Zoom Video Conference is:
A laptop, ipad or mobile device with a working camera and microphone
A stable internet connection
If using a mobile device, we recommend downloading the Zoom app, available from your device's App Store. It is not necessary, but is sometimes slightly more user friendly.
Once you have booked a space in one of the interactive Zoom sessions, look out for an email from Opera Holland Park which will include a URL link and details of how to join the Zoom meeting. 
To join the video conference ('meeting'), click the URL provided in the email.
Clicking the link will take you to the zoom website to verify the link.
If you already have Zoom downloaded, you will be prompted to open the programme:

If you have not yet downloaded Zoom, you will be prompted to either download Zoom or join the meeting through your web browser:

If you choose to join through your browser, click on the link 'click here' then a new option will appear:

Click 'join from your browser'. You will then be prompted to give your name, click the reCAPTCHA verification box ("I'm not a robot") then click the 'Join' button. Please note that your name will be visible to others in the session, so make sure you are happy with the name being public.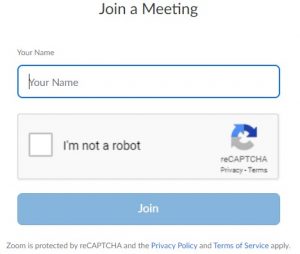 If you join early, you will likely see a page that say the following:

The page will continue to refresh every 5 seconds until the session starts. Please note that we will try our best to begin on time but it is possible that we will have minor delays. We will do our best to keep everyone up to date on our Twitter page.
10 minutes before each session starts, you may be added to the waiting room for the session. The host will connect you to the event once it begins.
Once you are in the meeting
The layout for the screen may be slightly different depending on what kind of device you are using, and you will need to move your mouse or tap the screen to have your options appear.
In general, you will be able to:

Mute/Unmute Audio – please note that you may not be able to unmute yourself unless the host of the call is taking questions.
*

Start/Stop Video – you can choose to stop or start your video at any time
*

Participants – Here, you can see a list of everyone in the session. You can change your name in the list at any time if you would like. You can also change your name to Anonymous if you do not want to share it with other participants.  
*

Chat – Here you can chat with the host and ask questions. 
*
If you have any technical difficulties, please feel free to email us at box.office@operahollandpark.com and we will do our best to help.