Every year we build a temporary canopied auditorium against the backdrop of Holland House, in the centre of Holland Park, West London, where we hold all our main-stage opera performances. 
This is world-class opera.
The Stage on
La traviata
, 2021
What to expect 
Surrounded by the beautiful formal gardens and wilded woodlands of Holland Park, our canopied open-air auditorium is the perfect place to enjoy critically acclaimed opera in the heart of London. Bringing together world-class singers and our resident orchestra City of London Sinfonia in the pit, our extraordinary summer festival is not to be missed. Find out more about what's on offer in our 2023 Season here. 
Our theatre
Our reimagined auditorium and performance space reflects the natural beauty of the theatre's setting in Holland Park. Constructed from reclaimed and sustainable materials and designed in collaboration with takis, it was described as 'London's greenest theatre' by the Evening Standard.
In 2023 the total capacity will remain flexible at approximately 750  seats, using the same footprint and aesthetic as 2022 but with improved sightlines, more comfortable seating and additional levels for your comfort.
London's greenest theatre.
Evening Standard
Our chairs
This summer, we going back to our fold down, padded seating with armrests from row D back. A – C will all be the best arm chairs from our previous selections.
As well as being beautiful and eclectic, the arm chairs in rows A – C are sourced and donated from theatres, productions and auction houses from around London and the UK, and represent our core belief that art institutions should be leading conversations on environmental sustainability and social responsibility.
Food and drink 
We have a variety of food and drink options available at the theatre and we are proud to work predominantly with independent companies within a 50 mile radius of Holland Park. Find out more about Food and Drink at OHP on this page. 
Balcony seats 
If you are planning to celebrate a special occasion at the opera this summer, please note that along with improved sightlines on every level of the auditorium we are now offering balcony seats with the capacity to host your guests in optimal comfort, a panoramic view, and one of the best acoustic experiences in the theatre. These are Band A and B (blue and red) seats located towards the back of the seating plan. Please get in touch with our box office team if you would like further details on balcony seats.
Seating plan and prices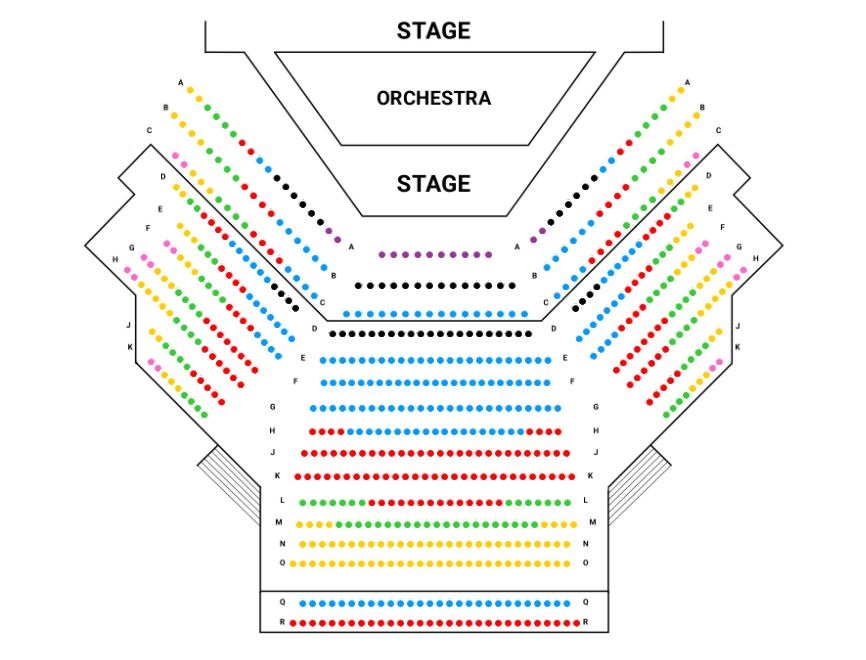 Main opera performances
Premier Tickets = £150 Non-Members/£142 Members
Price Band A+ = £145 Non-Members/£137 Members
Price Band A = £105 Non-Members/£97 Members
Price Band B = £95 Non-Members/£87 Members
Price Band C = £75 Non-Members/£67 Members
Price Band D = £58 Non-Members/£50 Members
Inspire = £24
Young Artists Performance of Hansel and Gretel
Price Band A+ = £70 Non-Members/£65 Members
Price Band A = £60 Non-Members/£55 Members
Price Band B = £50 Non-Members/£45 Members
Price Band C = £40 Non-Members/£35 Members
Price Band D = £35 Non-Members/£30 Members
Inspire = £24
Dress Code
There is no dress code at Opera Holland Park and we pride ourselves on our informal and welcoming atmosphere. As it can become cooler towards the end of the evening, we recommend that you bring layers.
Site opening times
For our in-house productions, the site will open 2 hours before the performance begins, unless advised otherwise. This means 5.30pm for evening performances starting at 7.30pm, and 12pm for matinee performances starting at 2pm. 
For external productions, the site will open from one hour before the performance begins. Please check with the Box Office for more information.
Surtitles
All opera performances at Opera Holland Park are surtitled in English. 
Latecomers policy
Patrons arriving late will not be permitted to take their seats until a suitable break in the performance – this may not be possible until the interval.
After the performance
Please exit through the Ilchester Place gate, Abbotsbury Road car park gate or the Duchess of Bedford's Gate leading to Holland Walk. All other gates will be closed after the performance.
Cloakroom facilities
We have lovely loos on site, with wheelchair access, but we do not offer a cloakroom facility. Any coats or small bags may be taken with you to your seat.
Ticket returns 
All tickets are non-refundable except under the circumstances outlined in our Terms and Conditions. However, we do offer a ticket exchange service via ticketswap.co.uk. Visit the link to find out more.