Every year we build a temporary canopied auditorium against the backdrop of Holland House, in the centre of Holland Park, West London, where we hold all our main-stage opera performances. On this page you will also find the Seating Plan for the theatre.
New theatre
In 2021, we will be building a new auditorium underneath our iconic canopy. Making full use of the beautiful natural setting, and using reclaimed and sustainable materials, this auditorium has been designed for Opera Holland Park by the award-winning set designer, takis. The seating capacity will be reduced from 1000 to 400 to allow for social distancing, customised flexible seating, enhanced personal space and a greater connection to the music and drama from the newly extended stage. We are grateful to our Members and Supporters for their generosity in enabling us to offer this exciting new space to our audiences.
Click here to view and download our print-at-home guide to the 2021 Season, which includes a calendar of performance dates, pricing, booking details, and information about the productions.
Seating Plan and Your Safety
Our new 400-seat seating plan will be divided into pre-sized household 'bubbles'. Read more about the Safety Measures we have in place here. If you can't find the right size bubble you're looking for, don't worry – just call our Box Office and they may be able to move things around for you.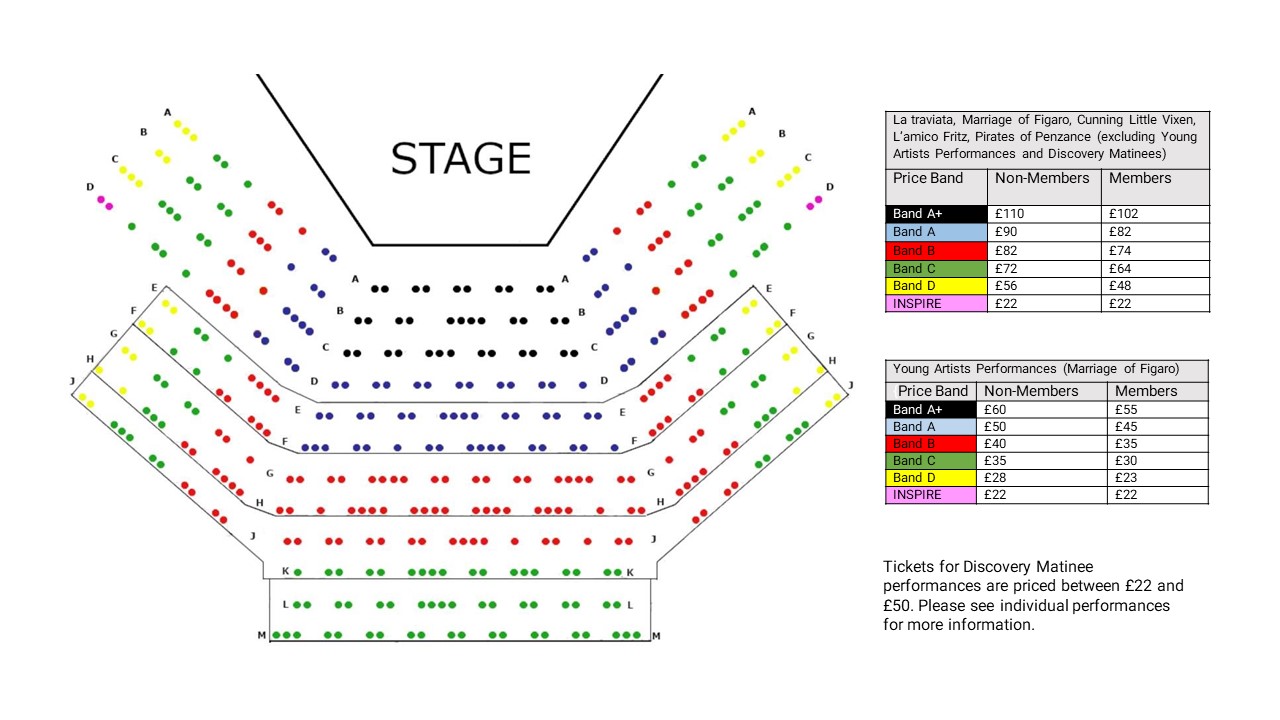 Dress Code
There is no dress code at Opera Holland Park and we pride ourselves on our informal and welcoming atmosphere. As it can become cooler towards the end of the evening, we recommend that you bring layers.
Surtitles
All opera performances at Opera Holland Park are surtitled.
Latecomers policy
Patrons arriving late will not be permitted to take their seats until a suitable break in the performance – this may not be possible until the interval.
After the performance
Please exit through the Ilchester Place gate, Abbotsbury Road car park gate or the Duchess of Bedford's Gate leading to Holland Walk. All other gates will be closed after the performance.
Cloakroom facilities
We have lovely loos on site, with wheelchair access, but we do not offer a cloakroom facility. Any small bags or coats may be taken with you to your seat.